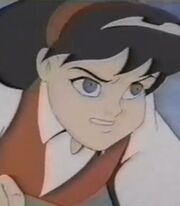 Bea
is one of
Max
's best friends. She first appeared in the episode
The Brain Suckers Cometh!
, and is voiced by
Kath Soucie
. Bea is an intelligent and lovely young girl who has assisted Max and help him on more than one occasion. In addition to her intelligence and beauty, she's level-headed and cool under pressure and often balances Max's exuberance and impulsiveness with a more intellectual approach to problems. Bea has also expressed more than a passing romantic interest in the Mighty One (cf. "Snakes & Laddies"), which has yet to be reciprocated.
Ad blocker interference detected!
Wikia is a free-to-use site that makes money from advertising. We have a modified experience for viewers using ad blockers

Wikia is not accessible if you've made further modifications. Remove the custom ad blocker rule(s) and the page will load as expected.