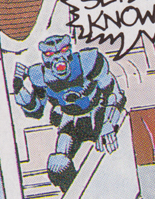 Lord Lupor's Lieutenant 
is an enemy of Mighty Max, from the 
Doom Zone
Mighty Max Terminates Wolfship 7
.
Biography
Edit
The Lieutenant is unnamed but served under Lord Lupor while aboard the Wolfship 7. They were on a mission to Earth with the intention of using their technology to mind control the population and then enslave it. Max stumbled onto this plan as he boards the Wolfship 7 but in doing so revealed he was also aboard the ship. In an attempt to catch Max, Lupor's lieutenant bumbled into his commanding officer, which gave Max a chance to fire a laser into the ship's haul and prompt a self-destruct sequence. 
Ad blocker interference detected!
Wikia is a free-to-use site that makes money from advertising. We have a modified experience for viewers using ad blockers

Wikia is not accessible if you've made further modifications. Remove the custom ad blocker rule(s) and the page will load as expected.