Smasher
, also known as
Crusher
, is an enemy of Mighty Max, from the
Doom Zone
Mighty Max Escapes From Skull Dungeon
.
Biography
Edit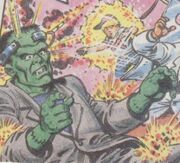 Smasher was a green-skinned monster created by Dr. Gore by stitching together and reanimating dead bodies (in a manner similar to Frankenstein's Monster). Smasher was only partially completed when Max arrived at Skull Dungeon to stop Gore, and was destroyed when Max blew the building up.
Ad blocker interference detected!
Wikia is a free-to-use site that makes money from advertising. We have a modified experience for viewers using ad blockers

Wikia is not accessible if you've made further modifications. Remove the custom ad blocker rule(s) and the page will load as expected.