Mighty Max: The Ultimate Adventure Game is a 2-4 player board game featuring Mighty Max and six Doom Zones.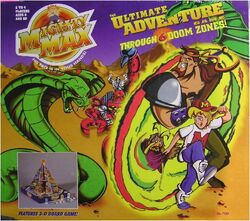 Description
Edit
Mighty Max must adventure through six Doom Zones, match wits with the villains and with the aid of Virgil and Norman, capture six of the Doom Stones. The object of the game is to be the first Mighty Max character to collect a Doom Stone from each of the six Doom Zones. There are four Max markers in four different colors: red, green, blue, and white. There are six villain markers: Professor Zygote, Scorpion, Kalamarus, Torturer, Ape King (misnamed as Gargantua), and Gor.
The game board is 3-D, forming a pyramid-like shape with each of the six represented Doom Zones among the shape.
Accessories
Edit
This board game includes:
1 platform game board
1 set of stand-up Doom Zones
4 Mighty Max Markers and Stands
6 Doom Zone Villain Markers and Stands
24 Doom Stones
3 Dice
Dice Labels
Ad blocker interference detected!
Wikia is a free-to-use site that makes money from advertising. We have a modified experience for viewers using ad blockers

Wikia is not accessible if you've made further modifications. Remove the custom ad blocker rule(s) and the page will load as expected.